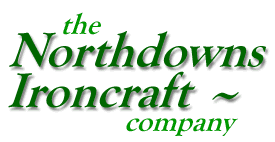 Curtain Poles for Bay Windows custom made in steel to the highest quality from The Northdowns Ironcraft Company
Bay Window Curtain Poles, as you may have already found, are very difficult to buy on the high street. As bay windows come in all shapes and sizes, you are unlikely to find them ready-made. At Northdowns Ironcraft we custom make bay window curtain poles in wrought iron that are not only practical, but beautiful. Simply measure your bay, according to our detailed measuring guidelines on the website, submit the measurements using our online form, and we will send you a no obligation quote and a diagram for you to confirm.
Our bay window curtain poles are lovingly crafted, sturdily constructed and have the timeless quality of hand made ironwork. They will suit traditional or contemporary styled homes equally. Available in two finishes, Matt Black or Polished Steel, all items are now powder coated for a tough, durable and lustrous finish, whilst maintaining the hand made markings and natural characteristics of the metal.
Standard window kits, which are also available, contain all the necessary pole, brackets and rings, and are straightforward to install. Simply choose the length and diameter of rod you need and then choose from twelve designs of decorative Finial end for the look you require. Our standard pole packs are available in lengths from 1 metre to 4 metres and in 16mm or 25mm rod diameters, ready for you to trim to length if necessary. If you prefer, we can pre-cut the rod to the exact length that you specify. Matching holdbacks are also available to complete the look, if you require. Standard kits are available to buy direct online.
This website contains all the necessary instructions to guide you through the measuring process, and arms you with all the information you need to make the right choices and avoid any unforseen fitting problems and pitfalls - plus a few useful tips.
At our workshops we make a wide range of hand crafted steel products, mixing traditional hand forging skills with modern manufacturing tools and methods, to make everything from large, automated estate gates and railings, to beautifully sculpted garden and indoor furniture, balustrades and architectural ironwork.
The Northdowns Ironcraft Company is a family run business, with a workshop situated on the Northdowns of Kent, in South East England. We have been in business here since the mid-seventies, initially serving the commercial sector. In the last few years we have expanded to produce ironwork and steel fabrications for private customers. Our website is an attempt to bring our products to a wider audience - to make our hand made ironwork accessible to everybody. Check out the About Us page for examples of some of our other work.